Manchester, NH  September 22, 2022–District 20 state senate candidate Richard Girard (R-Ward 2) announced the endorsement of Governor Chris Sununu, today.  Girard, a former at-Large school board member and alderman in Manchester, is running against long-term incumbent Senator Lou D'Allesandro (D-Ward 10) who has held the seat for the past 24 years.
Rich Girard will be a strong voice and vote in the State Senate for the citizens of Manchester.  Rich opposes a sales and income tax and will work hard to protect our New Hampshire Advantage.  He wants parents to be able to choose the educational path that is best for their children.  Rich has my support and I hope he has everyone's vote.

Governor Chris Sununu
In accepting the endorsement, Girard said:
"Two years ago, Governor Sununu worked tirelessly to elect Republican majorities in the House, Senate and Executive Council.  The results speak for themselves.  The taxpayers have been respected with a responsible budget and record Rainy Day Fund.  Parents have unprecedented school choice options for their children.  The economy has been almost too good.  Taxpayer funds won't be used to indoctrinate government employees or school children.  And, we're as well positioned as any state in the nation to weather this Biden caused recession.  I'm eager to join the GOP team at the State House that has strengthened the New Hampshire Advantage, providing much needed hope, opportunity and change for our hardworking families, friends and neighbors.
Click here to donate to Rich's campaign.  Click here to volunteer.  Thank you!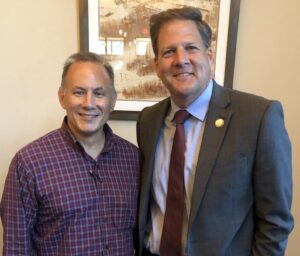 -30-