NOTE:  The article below is the original of an article published in the New Hampshire Union Leader on October 26, 2022.  Photos were not published in the Union Leader.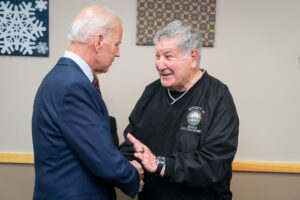 Despite record surges in the prices of gas, groceries and home heating fuel, record surges of illegal immigrants, criminals and drugs crossing our nation's borders, record surges in spending and interest rates that have pushed our economy into recession, Senator Lou D'Allesandro (D-District 20) recently published an article in the Union Leader stating, "The Biden Administration is off to a good start."  
He also said to count him among the Democrats who wanted Biden to use more executive orders to bypass Congress.  Shortly thereafter, Biden transferred an estimated one trillion dollars in voluntary student loan debt to taxpayers like you and me who've either paid off our student loans or never had them. 
D'Allesandro hasn't just lost touch with the daily struggles of working families over his twelve terms in office, he's taken leave of common sense to further an extreme agenda.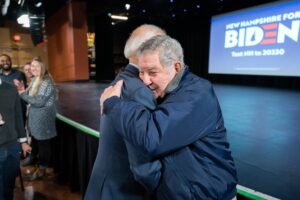 On Education, he opposed the school choice law that has given hundreds of underserved, low to moderate income families in our city access to schools that work for their children.  He's vowed to eliminate this innovative and cost-effective initiative.  I will fight to protect it.
He opposed legislation that prevents schools from teaching that one race or gender is inherently superior or inferior than another.  He'll try to kill that law.  I'll fight to protect it.
I am for a Parental Bill of Rights.  D'Allesandro opposed this legislation which requires schools to inform parents when their children identify as a member of the opposite sex.  Schools should not be allowed to hide or lie to parents about their children's mental wellbeing, as many, including Manchester's, now are.
On Crime, I will fight to change the catch and release bail law that puts criminals back on the street before police can finish the arrest report.  D'Allesandro voted for this law four years ago, the warnings of state police chiefs notwithstanding.  Bail should be determined based on whether or not someone is a threat to the public or a risk to reoffend or not appear in court.  It's common sense and I'll fight for it.
Just three years ago, D'Allesandro voted multiple times for an income tax, as he's done countless times during his twenty-four years in the senate.  There are literally hundreds of votes he's cast to hike or create taxes, even during recessions.  With a recession taking hold, we need someone who knows how to say no to taxes and unnecessary spending.  I am that someone.
Unbelievably, D'Allesandro even voted against requiring people to prove they are U S citizens and legal permanent residents of our state to vote in our elections.  He also opposes requiring photo ID.  I'll support these things because it's just common sense.
On abortion, D'Allesandro vehemently opposed the current law which allows abortion for any reason during the first 24 weeks (6 months) of pregnancy then, recognizing the human rights of the now viable child, allows it only for a fatal fetal anomaly or saving the life of the mother.  He's also cast a dizzying number of votes in favor of taxpayer funded abortion up until the moment of birth.  He's even voted several times against a Born Alive Protection Act which required emergency medical attention be given to save the life of a child who survives the abortion procedure, which happens during the kind of risky and complicated late term abortions D'Allesandro supports.  I will defend our current law, support Born Alive legislation and oppose these extremist pro-abortion positions. Moreover, to protect the health and safety of women, I'll support legislation to have the state license, regulate and oversee abortion clinics which are the only unregulated medical facilities in our state.
With the endorsement of Governor Chris Sununu, Senate President Chuck Morse and House Speaker Sherman Packard, among many others, I am running for the NH Senate in District 20, which includes Manchester's entire West Side (where I grew up and lived for 40 years) and wards two (where I've lived for 11 years), three and four.  I ask for your vote to restore common sense in Concord.  Manchester's working families deserve no less.  Learn more at www.GirardforNHSenate.com.  There, you can also send me your feedback, ask your questions, and offer your support.  Thank you.  God bless you and God bless the great State of New Hampshire and the United States of America.
Click here for a brief video and statement on Working Families.
Click here for Lou's voting record.